Web analytics software.
Self-hosted, friendly, all-in-one web analytics tool. Lightweight tracking, session replays, heatmaps, user journeys & more.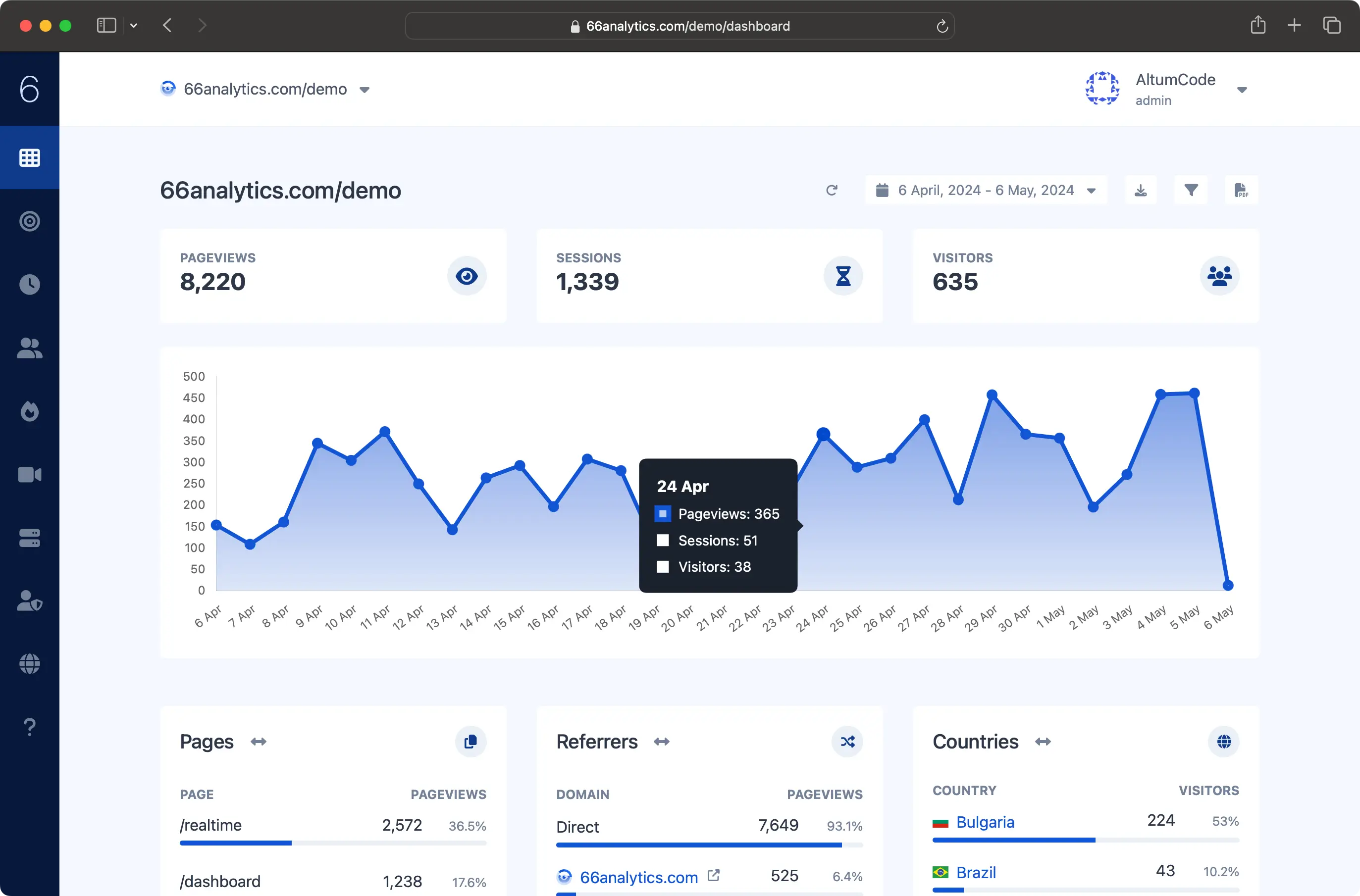 Analytics
Simple, good looking & friendly
Most web analytics solutions do way too much when, in most cases, what you need is to glance over them and easily understand what is going on.
Simple 5-min installation process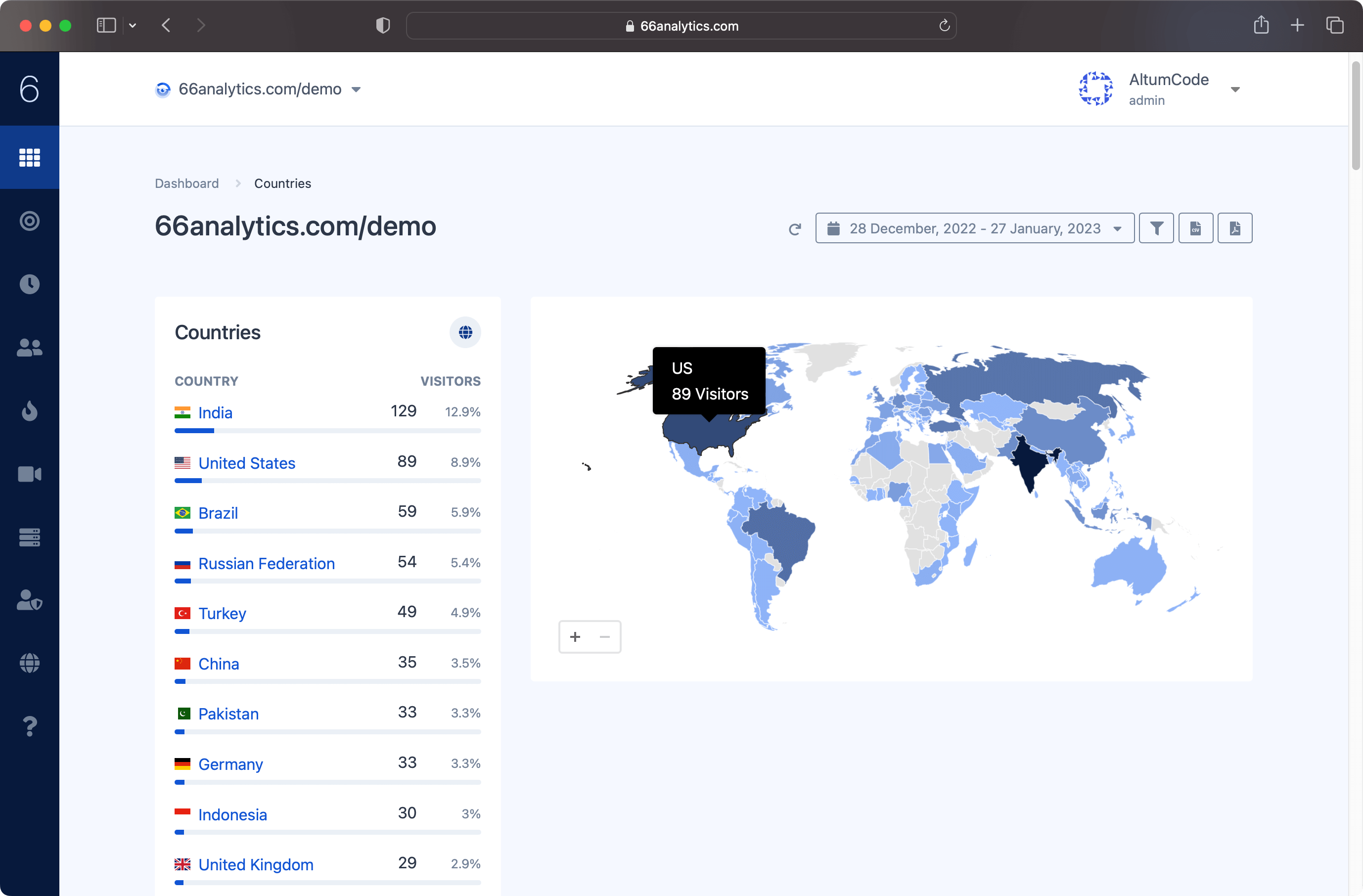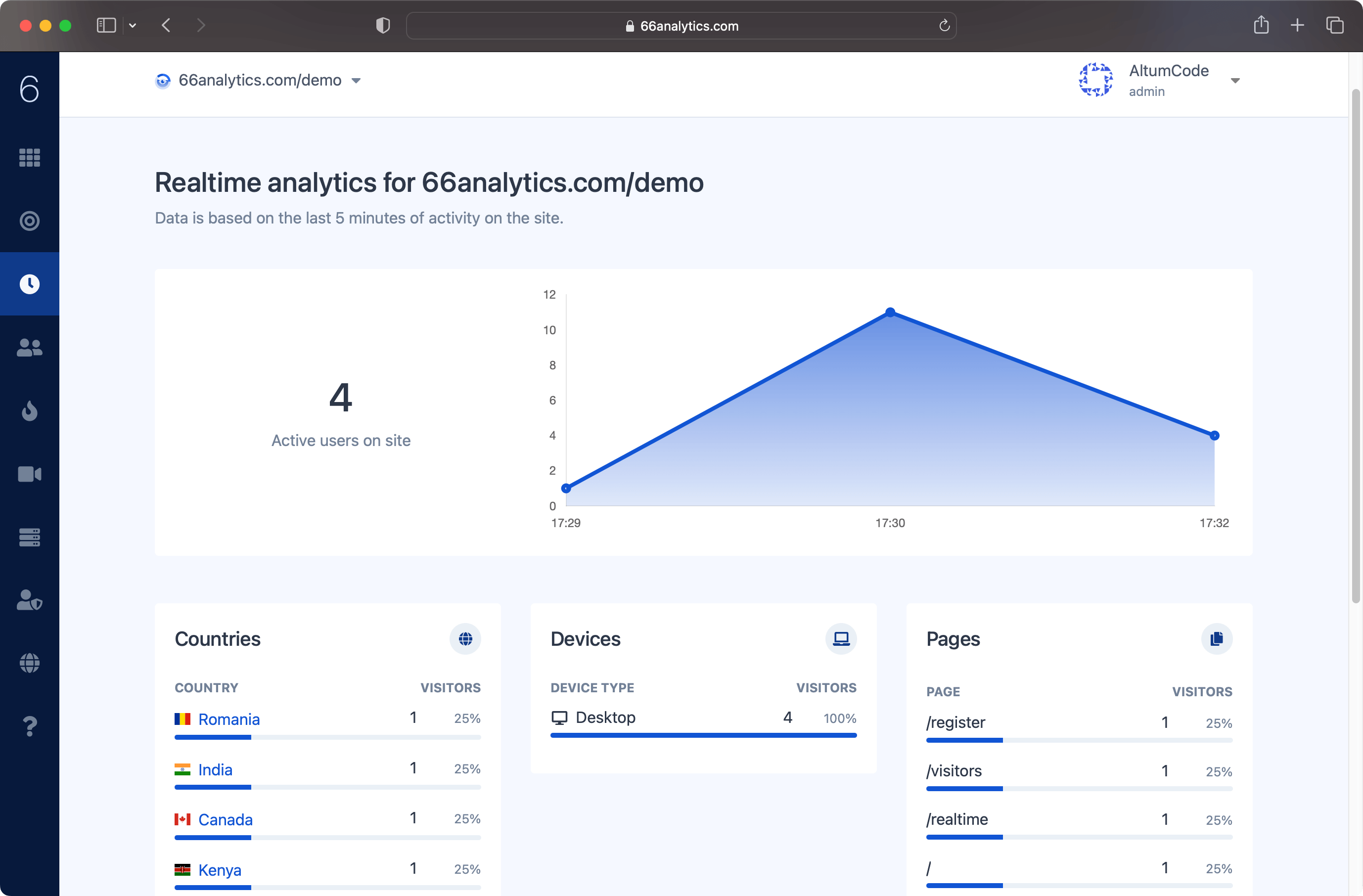 Dashboard
Everything at just a glance
The dashboard contains all the details you will need to know how you traffic is looking and evolving.
Evolution on the past days, months or years
Top pages, countries, referrers
Simple & custom Goals tracking
Cities, devices, OS & browsers statistics
Visitors
Understand your visitors
Evaluating your visitors behaviour and repeated actions is the best way to know what is working and what is not going so well.
View and get details of all the visitors
Analyze all their past sessions
including the flow of the visited pages and their actions
Identify your visitors
Integration to link your customers with the tracked sessions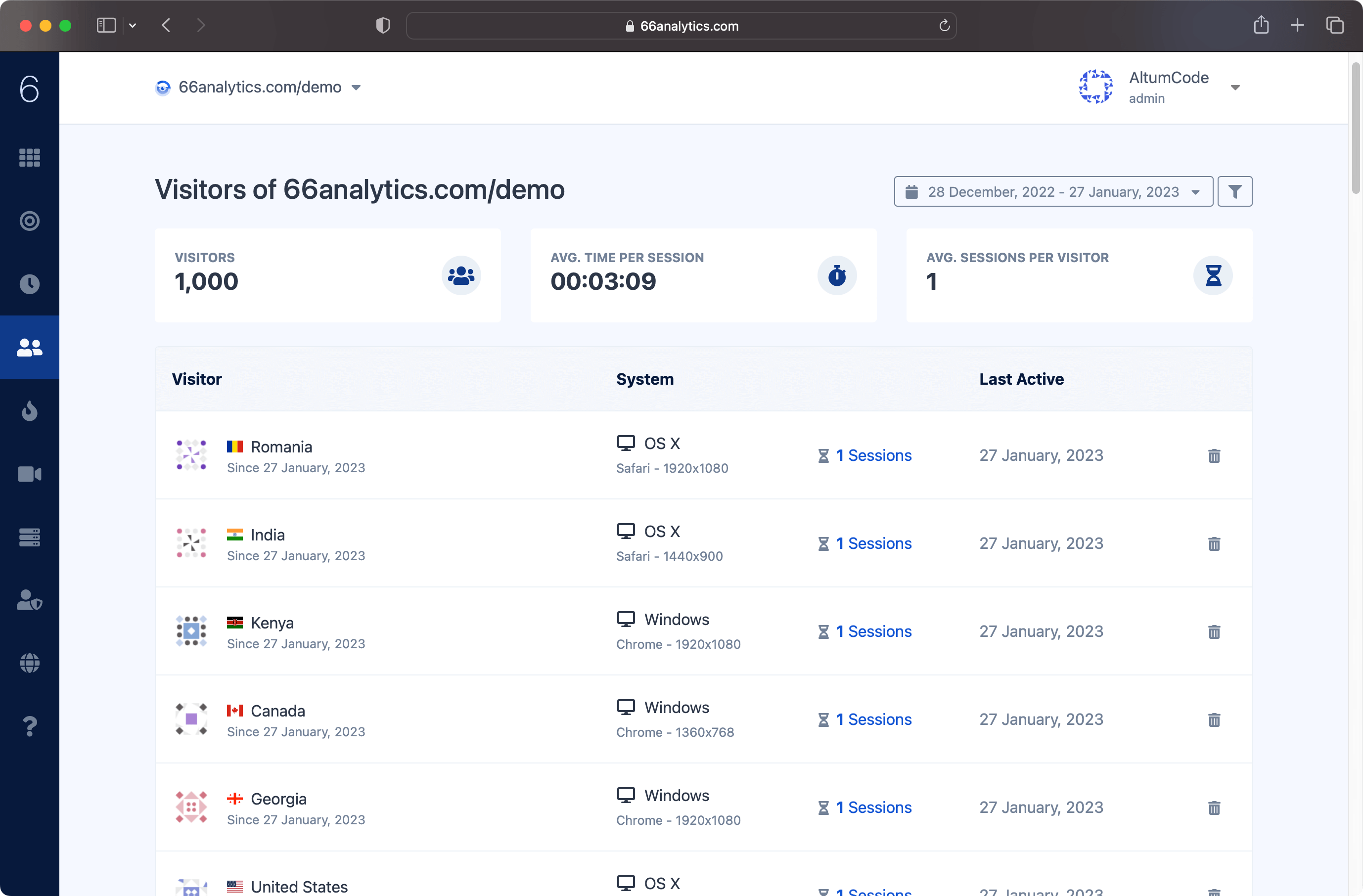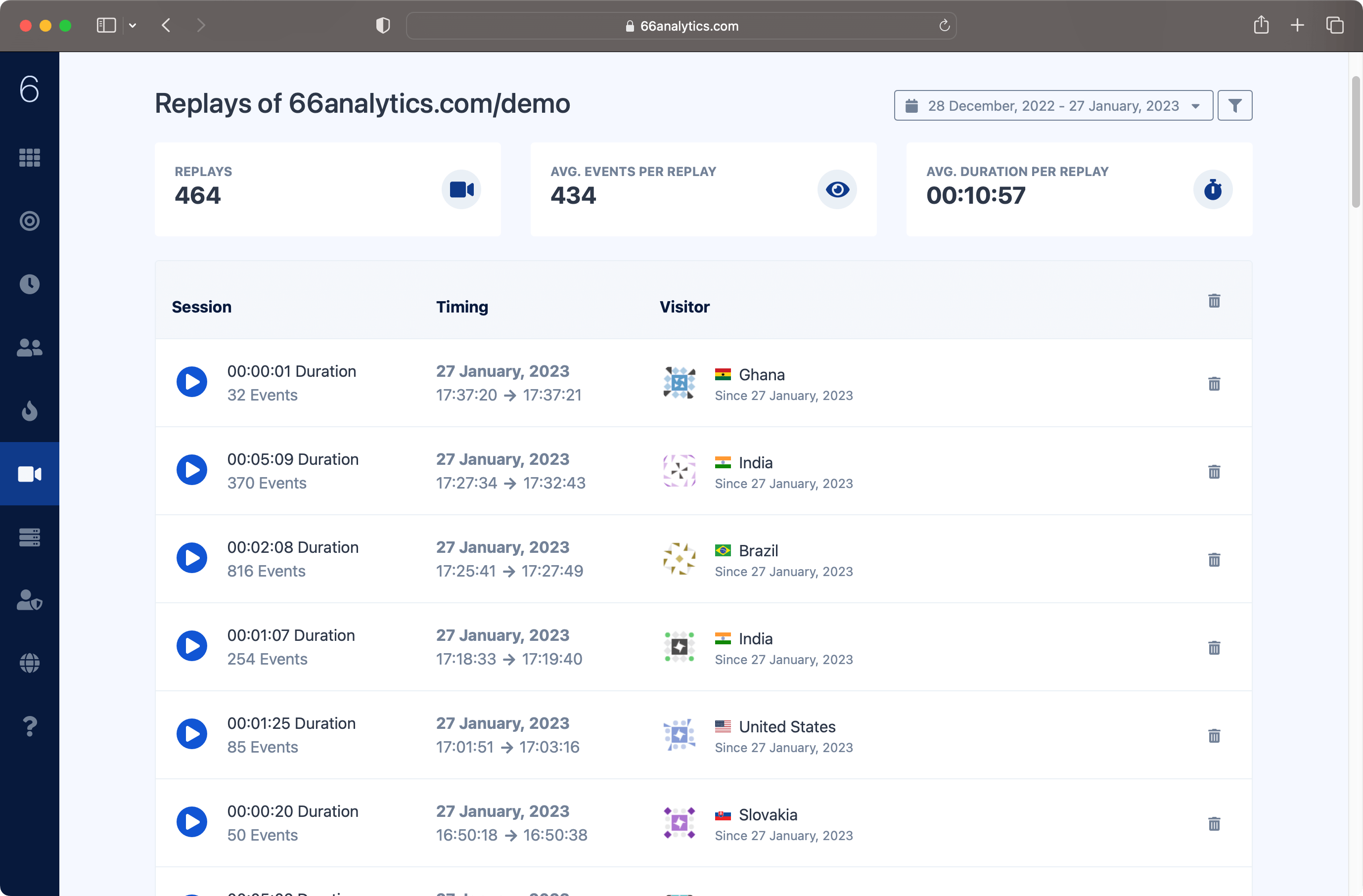 BETA
Session replays
Session replays are the most convenient way to easily check what a visitor did and his journey throughout the site.
Pro - High quality visual replays
Con - Can be heavy on the server
High amount of data needs processing & storage.
BETA
Heatmaps
Get to understand where your users are clicking and where the cold zones of your website pages are.
Multiple heatmaps per website
Desktop, tablet & mobile heatmaps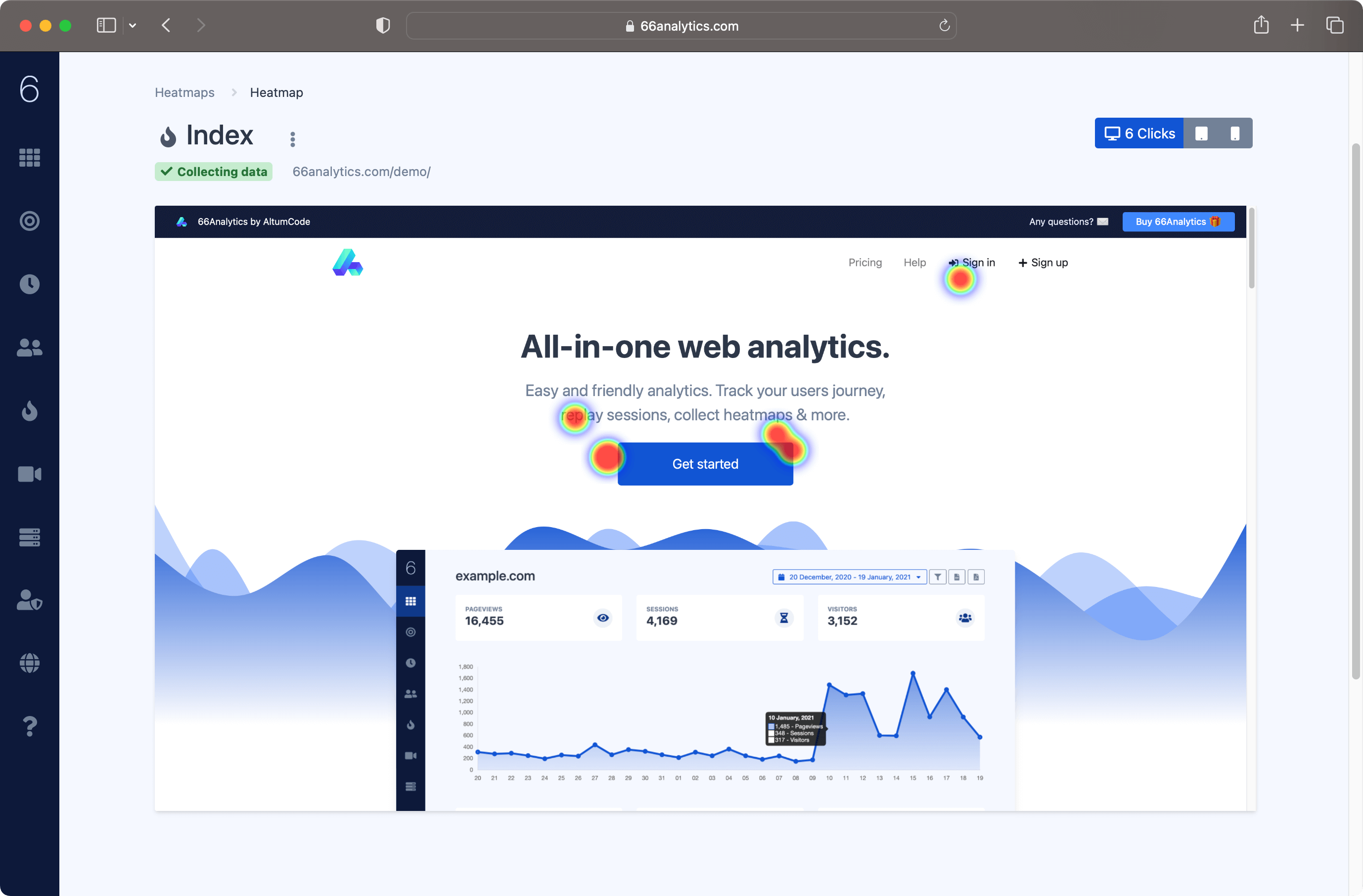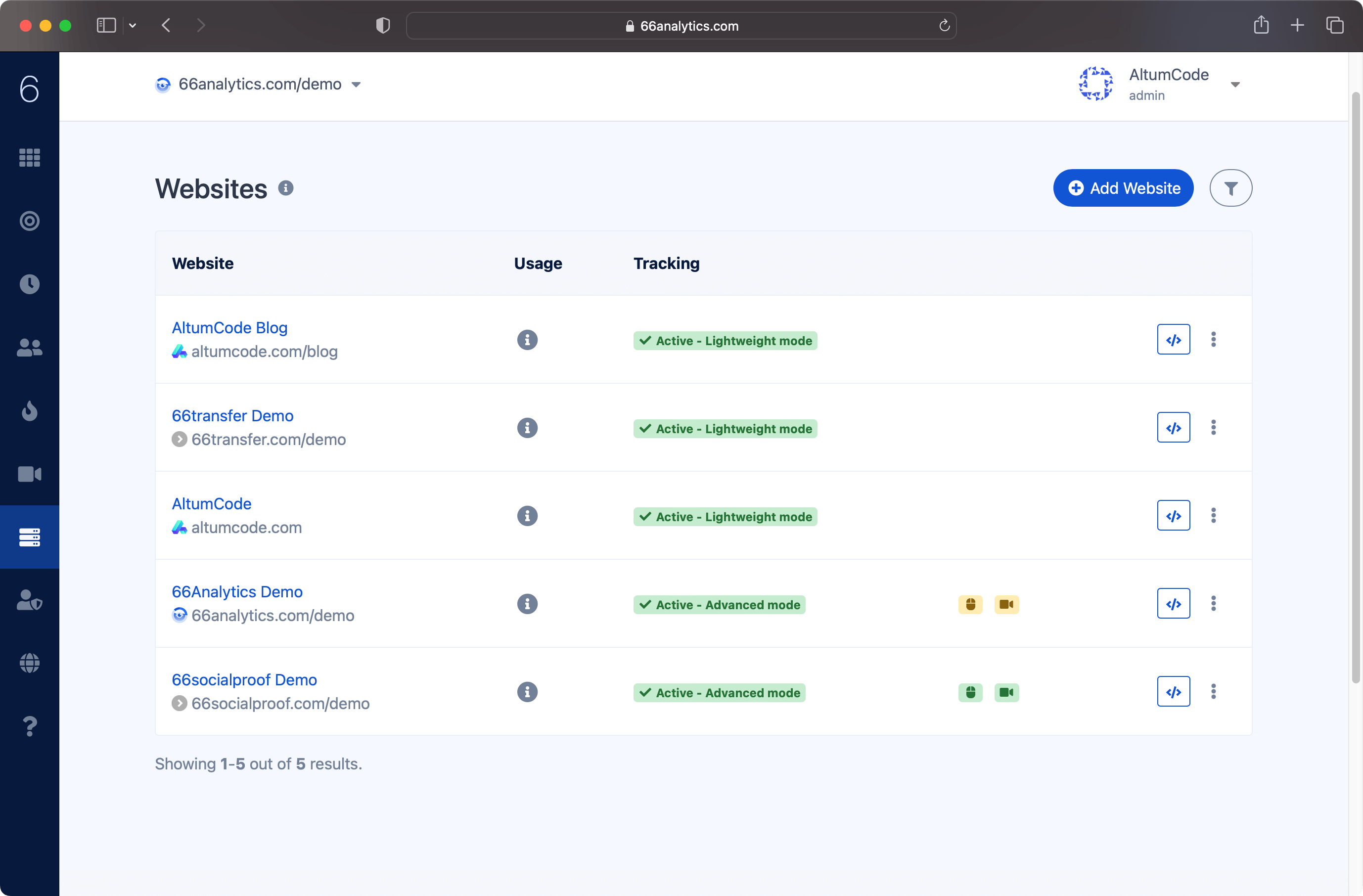 Privacy
Your data, owned by you
One of the main reasons to why should you choose this product over anything else on the web. All the tracked data will be fully owned by you and stored on your servers.
Supports Opt-Out for your visitors
Respects DNT (Do not track)
No IP addresses are being collected
Lightweight mode
66analytics even has a lightweight mode that fulfills the basic tracking needs while extremely fast.
No cookies and no local storage
GDPR, CCPA and PECR compliant
No tracking consent needed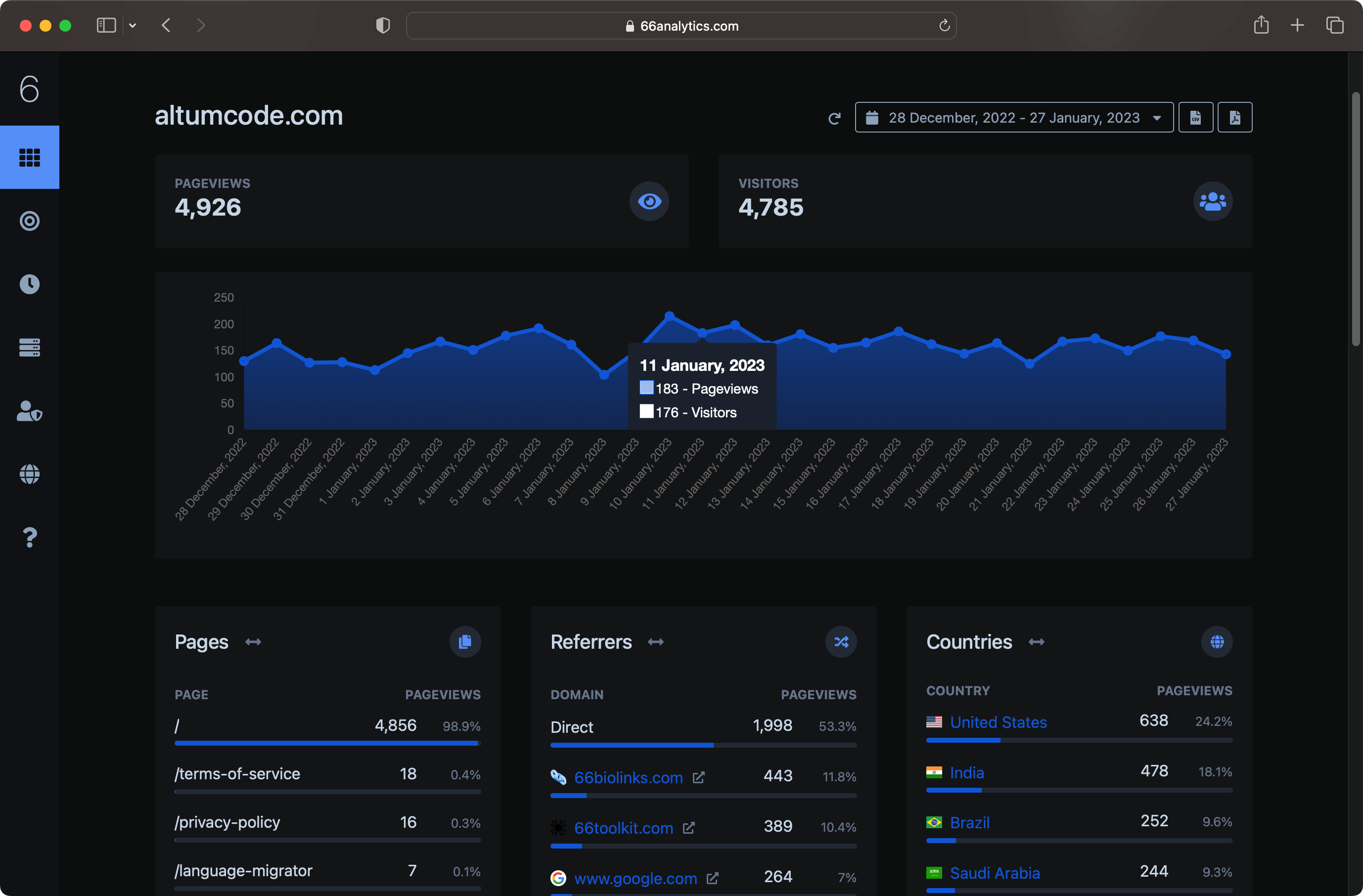 🛠 Fully-featured Admin Panel
Comes right out of the box with a ready to use and functional Admin Panel that allows you to control and check everything that is going on on your website.
👁 Ready to use Dashboard for a nice overview of what happens on your website.
🙋‍♂️ The Users management system to create, view, update and delete users, including management via an API and user impersonation as an admin.
⚡️ Have control over all the user generated content, such as Websites & custom domains directly from the admin panel.
👩‍💻 Pages & pages categories management where you can manage all the extra and custom page on your website.
📝 Easy to use & simple blog system with blog categories, popular posts and good SEO.
💳 Powerful Discount & Redeemable codes system where you can give out discounts or fully redeemable plans for your users.
🧾 Taxes, billing & invoicing where you can configure and generate proper invoices and tax rates for you and your paid customers.
💰 Payments management to check all the payments made on your platform & Statistics page to see an overview of the growth of your website.
📈 Built in Statistics where you can analyze how your website is growing.
🌏 Control all the text and Translate everything to any language directly from the admin panel.
🪝 Webhooks to send data to external sources on important events, such as new users, new payments and so on.
🔥 Website settings to control every configuration so that you make it exactly the way you want it.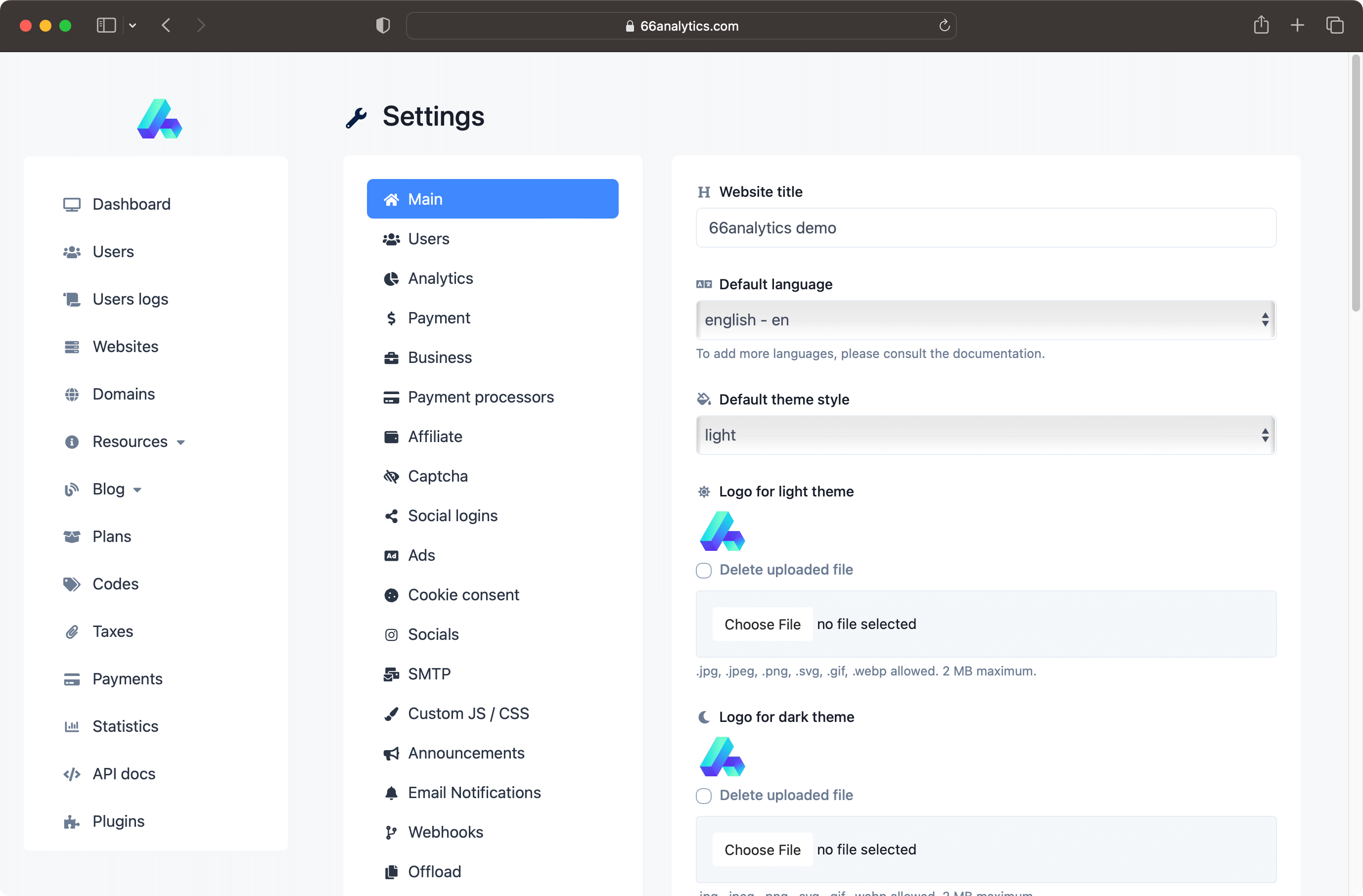 More features
Here are some extra features that you should know about:
Teams system
Users can share access to their websites analytics with other people.
Email reports system
Auto sending weekly or monthly email reports to websites that have this option enabled.
Dark mode
Simply beautiful and ready to go right out of the box.
Social logins
Twitter, Google, Facebook & Discord integrations.
Automatic generated sitemap
Your sitemap is automatically generated and updated for you.
Two Factor Authentication
You and your users can use 2FA if they want to.
Customizable & unlimited plans
Admins can create & configure plan features, with their own pricing directly from the admin panel.
Multilingual ready (with RTL support)
The whole platform can be translated via the Admin Panel with ease.
API ready
Comes with a few useful API endpoints for both the user and the admin.
Custom domains
Fully featured custom domains system to bypass ad-blockers.
Cookie consent
Integrated cookie consent banner, configurable via the admin panel & translatable.
Blogging system
Integrated simple, easy to use & translatable blogging system.
Newsletter system
Broadcast emails to your users/subscribers, get tracking data & segment users.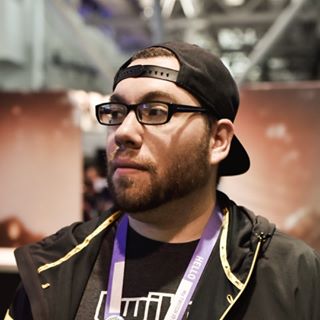 "Altum has been amazing to work with and helpful during every step of the way using these scripts.

I would highly recommend any of their projects as they work and have gotten me to user bases of over 3,000+ users and site visitation of 20,000+ visitors a month.

Great work! Thank You!"
10K+ people bought our products ✨
The AltumCode brand stands for high quality, reliable and affordable products.
You can find our work and reviews on Codecanyon, where we've got 5/5 ⭐️ stars average ratings, based on over 850+ reviews.
We've also sold via Gumroad, where we've also got a 5/5 ⭐️ star rating average, based on over 250+ reviews across all products.





Get 66analytics
Join over 500+ members that already use 66analytics.
Start your own paid service
$549
$329.40
Everything from the Regular License
12 Integrated payment gateways
Discounts and redeemable codes system
Buy extended license
Not decided or convinced? Get the Regular license and upgrade later.
Frequently Asked Questions
Here are some answers to the most asked questions regarding this product.
What are the requirements of this product?
Consult the Documentation for more details.
What will I receive after the purchase?
You will receive the full source code of the product, the documentation on how to install and configure the product and the best way to contact support.
How will I receive future updates?
Future updates will be sent out via email exactly when they happen.
What will happen after my support expires?
You will no longer be eligible for support, but you will still be able to use the product and get future updates. You can renew the support for another 6 months based on the license that you've purchased.
Can I get an invoice?
Yes! After you purchase 66analytics, you can click the "Generate" button on your receipt.
What does support mean?
Support means the following:
Answering technical questions directly related to the product.
Answering non-technical questions directly related to the product.
Help with potential bugs or issues.
Support does not mean:
Free installation or updating services.
Customization services or help to alter to product's source.
Providing help for problems created while altering/modifying the product's code.
Refund policy?
Refunds are not given out in the following circumstances:
You simply changed your mind after purchasing.
You do not have sufficient expertise to handle and use the product.
Refunds may be given in the following circumstances:
Product has a serious security vulnerability and it is not fixed.
The product doesn't work as mentioned in the description / demo.
Before purchasing, make sure to read the Documentation and properly check out the demo so we can avoid these situations from the beginning.
How can I be an affiliate?
Simply fill the form and show me your affiliate work & how you plan to market my product. You will be able to earn 30% commission from each sale that you bring.